About
We hope you enjoy browsing through endless treasures and wandering through yesterday.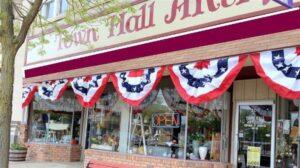 We are very proud to have 50 of Michigan's finest antique dealers, who travel all over the country to acquire the best items. 
We have enjoyed 28 years at the same location and have made many very special customers. We are a proud retail antique center; therefore, special attention is given to customer service and reasonable, fair prices.  We maintain a high standard of quality. This keeps our customers coming back and enjoying their time spent here. 
Our goal has always been to maintain the same quality of antiques as you travel throughout the three floors in two buildings.  You'll find Art Glass Vases, as well as, Cookie Cutters, Cut Crystal Water Pitchers. You will also find, old Tin Coffee Cans, Vintage Tin Toys, primitive farm tools, 60's bath hamper, a curved glass china cabinet adorned with lion heads, Great Vintage Advertising, pottery, and MUCH more merchandise. You'll find that we have more merchandise than most antique stores you've been in. We think if you haven't been here, you will be pleasantly surprised when you do finally visit us.
OUR GUARANTEE ON YOUR PURCHASE
Whether your buying a $ 5.00 bowl, a $18.00 vase or a $3000.00 Canoe, Our Guarantee… We want our customers to buy with confidence and piece of mind. With more reproductions and frauds entering today's antique market, we offer  Town Hall's Guarantee.  Every item we sell is guaranteed to be as represented.  We do not sell reproductions.
All major credit cards are accepted. We also offer a 30-day lay away program. We are open 7 days a week, 361 days a year, 10-6.
We ship anywhere in the United States, packaging every item professionally and safely, We charge our customers only for the actual shipping fees. Delivery is always available.
We maintain a computerized locator service for our customers looking for special items. Please see our contact page to tell us what you're looking for, any information you may need,  ask a question, or leave comments for us. You can contact us through our website, email (townhallantiques@comcast.net), or call us at 586-752-5422.  We're here to help. We also maintain an email list and Facebook page to keep you updated and informed.
WE'RE EASY TO FIND 
[mm_map]